'The love never went away' - Will Barta makes most of clear run at Movistar
American extends with Spanish team and targets another step up in 2024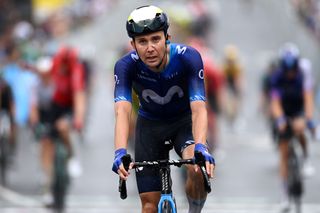 (Image credit: Getty Images)
While his compatriot Matteo Jorgenson will leave Movistar for pastures new this winter, Will Barta is content and settled at the Spanish team for the foreseeable future. Barta's two-year extension was only publicly announced a couple of weeks ago, but the new contract had already been agreed months previously.
"Historically, it's been a really Spanish team, and that's still the case, but I think that also makes it a really tight team," Barta told Cyclingnews. "You don't have lots of different groups, so everyone meshes really well, and you just feel like it's one, big family."
When Barta initially signed with Movistar two years ago, he was a rider still in search of himself after a career repeatedly conditioned by serious injury. The American's first professional races with CCC in 2019 were also his first competitive outings since breaking his femur at the previous summer's under-23 Giro d'Italia, and he suffered accordingly.
Barta finally looked to have hit his stride with a fine Vuelta a España at the end of the pandemic-interrupted 2020 season, only to sustain another broken femur weeks later in a training crash in Norway. That setback effectively ruined his 2021 campaign with EF, and he was still feeling the effects during his maiden season at Movistar.
"You never know what's going to happen in life, but I think that was about as challenging as it can get in cycling, to be honest," Barta said. "I was bouncing from one team to another with injuries and things like that, so I've been really lucky to find a nice team like Movistar to grow in."
At the beginning of 2023, Barta set out hoping that the campaign might mark a turning point in his career given that he had just been able to enjoy a winter free of significant interruption for the first time in five years. That optimism grew further when he was assigned a racing schedule tailored to his strengths.
"When you have these injuries, your role on a team changes a bit. You become the guy who fills in, you don't have such a clear schedule," Barta said. "But this year, I was really lucky that the team gave me a clear run of races, with time to train and time to go to altitude. I was able to optimise things for the first time in my career, and I really benefited from it. I had my best values in training, my best numbers in racing, I was in the race more often, and I just really enjoyed it."
A strong display at the Saudi Tour and 5th place overall at O Gran Camiño in February suggested Barta was on the right track, and he continued to catch the eye through the rest of the Spring, performing solidly at both the Tour de Romandie and the Giro d'Italia. He would later go on to take second behind a rampant Brandon McNulty in the time trial at the US Championships.
"For me, I feel like I'm finally back at a baseline," Barta said. "It was the first off-season since 2017 where I didn't have a surgery on my leg. It's one thing to have a surgery on your hand or something, but to have surgery on your leg each year was quite difficult. This has definitely been the best season I've had, and it's something I can build from.
"I think Romandie and the first two weeks of the Giro were my highest level this year, but I was really happy to be back in the racing all the way through the Spring. That was a really nice feeling."
2024
Those displays ensured that Barta's future at Movistar was assured long before the end of the 2023 season, and the continuity of this prolonged stay at the team marks a break with the unsettled nature of his first seasons as a professional.
In those turbulent years, the only steady waters seemed to come at the 2020 Vuelta, where Barta placed 22nd overall and came within a second of beating Primož Roglič to the Mirador de Ézaro time trial. That showing served as an important addition to his showreel, but, above all, it was a memory that sustained him through the hardships that followed. Without it, Barta admitted, he might not have stayed in the game.
"It meant I had a taste of how it can be," Barta said. "Six weeks later, I broke my other leg, and that was super hard, so I honestly think that if I hadn't had that Vuelta, I wouldn't be a pro cyclist – by anyone's choice, not just my own.
"I still had that memory of how nice it can be, so I think that's really what kept me going. But I also really just love cycling and training and racing. The love never really went away. There were times when it's been challenging, and I thought I'd never get back to the level where I was or could have been, but I really enjoyed it, so I thought I would just keep trying."
Now 27, and with two unbroken seasons behind him, Barta will target further progress in 2024. The race programme is still to be defined, but the intent is already clear.
"I definitely think it's possible to take another step up after a healthy season where I've been in the racing rather than making up the numbers," he said. "I just want to improve next year. I've started to have success in 2.1 and 2.Pro races, and now I want to transfer that to the WorldTour."

Thank you for reading 5 articles in the past 30 days*
Join now for unlimited access
Enjoy your first month for just £1 / $1 / €1
*Read any 5 articles for free in each 30-day period, this automatically resets
After your trial you will be billed £4.99 $7.99 €5.99 per month, cancel anytime. Or sign up for one year for just £49 $79 €59

Join now for unlimited access
Try your first month for just £1 / $1 / €1