Luke Lamperti and Samantha Schneider win inaugural titles at CRIT Championship
Guest ride by US crit champion helps L39ION of Los Angeles sweep pro categories in St. Petersburg, Florida event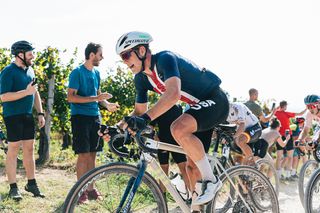 (Image credit: Alex Whitehead/SWpixcom)
Three-time US Pro criterium champion Luke Lamperti and Tulsa Tough omnium winner Samantha Schneider won the elite races at the inaugural CRIT Championship in St. Petersburg, Florida on Saturday evening.
It was a L39ION of Los Angeles sweep in the women's race, a combined field for pros and category 2/3/4 riders as Samantha Schneider posted up as she crossed the line ahead of teammates Skylar Schneider in second and Julyn Aguila in third. A full squad of six L39ION riders, including Alexis Ryan, Kendall Ryan and Aubrey Drummond, won the team prize.
Lamperti also celebrated his victory as he crossed the line several bike lengths in front of Daniel Estevez (Miami Blazers - Canyon) and Lucas Bourgoyne (Austin Aviators - Metor).
Lamperti competed this year for Trinity Racing on the road and represented Team USA at the UCI Road and Gravel World Championships.
L39ION swept the podium ceremonies with the men's team prize as well, the trophy hoisted by Cory Williams alongside Lamperti, Tyler Williams and Eder Frayre.
The flat, four-corner course for the CRIT Championship was ridden in a counter-clockwise direction, the men finishing as the sun sank behind the palm tree-lined avenues stretching to the Gulf of Mexico.
CRIT, an acronym for Circuit Racing International Tour, was created by Justin Williams, who started Williams Racing development and co-founded L39ION of Los Angeles. The event offered a $15,000 prize purse for pro women and pro men that was split evenly across both fields in 70-minute competitions.
The men's pro race featured an 'all-star', invitation-only field of 10 teams for the one-day event, which was independently produced from USA Cycling. A separate women's pro race never materialised with a shortfall of invited riders who had schedule conflicts and limited availability, so the pro women competed in the women's open category 2/3/4 event. The same prize money was distributed for the women as planned.
Results
Swipe to scroll horizontally
Women

| Pos. | Rider Name (Country) Team | Result |
| --- | --- | --- |
| 1 | Sam Schneider (L39ION of Los Angeles) | 1:03:39 |
| 2 | Skylar Schneider (L39ION of Los Angeles) | |
| 3 | Julyn Aguila (L39ION of Los Angeles) | 0:00:01 |
| 4 | Alexi Ramirez (Miami Blazers- Canyon) | 0:00:02 |
| 5 | Kendall Ryan (L39ION of Los Angeles) | |
| 6 | Anna Ruth Clark (Miami Blazers- Canyon) | 0:00:03 |
| 7 | Tess Edwards (L39ION of Los Angeles) | 0:00:05 |
| 8 | Paige Kostanecki (Unattached) | 0:00:09 |
| 9 | Aubrey Drummond (Austin Aviators - Metor) | 0:00:11 |
| 10 | Zoey Marks (Unattached) | 0:00:12 |
| 11 | Alexis Ryan (L39ION of Los Angeles) | 0:00:32 |
| 12 | Julianna Rutecki (Miami Blazers- Canyon) | 0:01:01 |
| 13 | Melanie Jarrett (Austin Aviators - Metor) | |
| 14 | Joyce Monton (Austin Aviators - Metor) | |
| 15 | Nicole Mertz (Austin Aviators - Metor) | |
| 16 | Azyra Franklin (Unattached) | |
Swipe to scroll horizontally
Men

| Pos. | Rider Name (Country) Team | Result |
| --- | --- | --- |
| 1 | Luke Lamperti (L39ION of LA #1) | 1:03:50 |
| 2 | Daniel Estevez (Miami Blazers - Canyon) | 0:00:01 |
| 3 | Lucas Bourgoyne (Austin Aviators - Metor) | |
| 4 | Sam Morris (Swarm- Milwaukee - Wisconsin / Project Echelon) | |
| 5 | Jim Brown (Tekkers) | 0:00:02 |
| 6 | David Guttenplan (Denver 5280 - Groove) | |
| 7 | Alberto Ramos (Work Hard Be Humble) | |
| 8 | Chris Hildreth (Work Hard Be Humble) | |
| 9 | Preston Eye (Work Hard Be Humble) | 0:00:03 |
| 10 | Justin Williams (L39ION of LA #2 / New York Dream) | |
| 11 | Joshua Kelly (Chicago Rivals - WRDEVO / Riders) | |
| 12 | Cory Williams (L39ION of LA #1) | 0:00:04 |
| 13 | Derrick Chavarria (Tekkers) | 0:00:05 |
| 14 | Ethan Craine (Swarm- Milwaukee - Wisconsin / Project Echelon) | |
| 15 | Jonathan Brown (Chicago Rivals - WRDEVO / Riders) | 0:00:06 |
| 16 | Tyler Williams (L39ION of LA #1) | |
| 17 | Cormac Daly (Denver 5280 - Groove) | |
| 18 | Will Hardin (Swarm- Milwaukee - Wisconsin / Project Echelon) | 0:00:07 |
| 19 | Spencer Moavenzadeh (Miami Blazers - Canyon) | |
| 20 | Vince Rhino (Denver 5280 - Groove) | 0:00:11 |
| 21 | Joe Holt (Tekkers) | |
| 22 | Oscar Quiroz (Chicago Rivals - WRDEVO / Riders) | |
| 23 | Hank Beaver (Atlanta Flyers - Choco Pronto) | 0:00:12 |
| 24 | Casey Magner (Atlanta Flyers - Choco Pronto) | |
| 25 | Kyle Tiesler (Denver 5280 - Groove) | 0:00:13 |
| 26 | Andy Scarano (Atlanta Flyers - Choco Pronto) | |
| 27 | Fredd Matute (Denver 5280 - Groove) | 0:00:18 |
| 28 | Luke Fetzer (L39ION of LA #2 / New York Dream) | 0:00:22 |
| 29 | Peter Olenjniczak (Swarm- Milwaukee - Wisconsin / Project Echelon) | 0:00:24 |
| 30 | Jason Paez (Chicago Rivals - WRDEVO / Riders) | |
| 31 | Ruben Campanioni (Miami Blazers - Canyon) | |
| 32 | Jered Gruber (Atlanta Flyers - Choco Pronto) | |
| 33 | Hugo Scala Jr. (Swarm- Milwaukee - Wisconsin / Project Echelon) | |
| 34 | Greg Vanderpool (Austin Aviators - Metor) | 0:00:25 |
| 35 | Alec Cowan (L39ION of LA #2 / New York Dream) | |
| 36 | Mark Boults (Swarm- Milwaukee - Wisconsin / Project Echelon) | |
| 37 | Ty Magner (L39ION of LA #2 / New York Dream) | |
| 38 | Kyle Murphy (L39ION of LA #2 / New York Dream) | 0:00:26 |
| 39 | Alec Briggs (Tekkers) | 0:00:29 |
| 40 | Conor Sallee (Austin Aviators - Metor) | 0:00:30 |
| 41 | Dante Young (Miami Blazers - Canyon) | 0:00:44 |
| 42 | Robin Carpenter (L39ION of LA #2 / New York Dream) | 0:00:53 |
| 43 | Michael Pincus (Austin Aviators - Metor) | 0:00:54 |
| 44 | Cesar Marte (Work Hard Be Humble) | 0:00:55 |
| 45 | Eamon Lucas (Austin Aviators - Metor) | 0:00:57 |
| 50 | Jyven Gonzalez (Chicago Rivals - WRDEVO / Riders) | |
| 51 | JP Primm (Work Hard Be Humble) | |
| 52 | Nigel DeSoto (Work Hard Be Humble) | |
| 53 | Thomas Brown (Atlanta Flyers - Choco Pronto) | |
| 54 | Shawn Codd (Chicago Rivals - WRDEVO / Riders) | |
| 55 | Cristhian Ravelo (Austin Aviators - Metor) | |
| 56 | Dan Holt (Atlanta Flyers - Choco Pronto) | |
| 57 | Thomy Galindez (Denver 5280 - Groove) | |
| 58 | Wilam Gomes (Unattached) | |

Thank you for reading 5 articles in the past 30 days*
Join now for unlimited access
Enjoy your first month for just £1 / $1 / €1
*Read any 5 articles for free in each 30-day period, this automatically resets
After your trial you will be billed £4.99 $7.99 €5.99 per month, cancel anytime. Or sign up for one year for just £49 $79 €59

Join now for unlimited access
Try your first month for just £1 / $1 / €1