Supported
How I plan to make my first winter as a new dad my best one yet on the bike
How I plan to use indoor training to have my best ever winter of cycling despite being a new, sleep deprived first time dad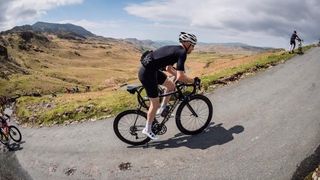 (Image credit: Steve Fleming)
When I was asked by my editor if I was interested in creating a three-part mini-series on how I was going to use indoor cycling to make this winter my best ever on the bike, I had to admit the timing seemed convenient.
In the last year, I've experienced a couple of fairly big life changes. The first of these was starting a new job at Cyclingnews. The second came a few months after that when I proudly became a father for the first time in January.
Cycling has been a huge part of my life for about twenty years. I joined my local cycling club at age twelve after a week-long summer camp at the local track, and that was it. Hooked forever. I've been the young racer eagerly filling out his training diary in the winter, dreaming of battling for wins in the coming season. I've raced muddy cyclocross races, done off-season circuit training and met club mates in the dark through the winter months for a club run or training ride to get the miles in.
As I've gotten older, like countless other generations of amateur cyclists, I've fitted my cycling in around work. Winter riding has meant commuting by bike on dark mornings to get the miles in, perhaps doing a mid-week evening club ride and then meeting up with the local bash early on a Saturday morning. I've done my fair share of grim turbo trainer sessions as well over the years when the weather has been bad. But needless to say, smart trainer technology improvements and Zwift and other indoor training apps have transformed indoor training into the fun, interactive cycling experience it is today, which can really help a winter of cycling.
In the spirit of this series, as a time-crunched and often tired new dad, Zwift has kindly loaned me its Zwift Hub One smart trainer and new single-speed cassette for a few months and I plan to use it alongside Zwift to try and make this my best winter ever on the bike.
I'll be keeping you updated on what I'm doing in my series instalments and have got a range of riding ideas cooked up, both indoor and outdoor.
A new baby and new riding challenges
Becoming a dad has meant I simply don't have as much time to ride my bike at the moment as I have in years gone by. Granted, my job does provide riding opportunities which is great, but becoming a parent is a big life change and trying to find time to train and ride needs a lot more planning than it did before.
Being a parent and sharing parental duties means I can't just head out on the bike whenever I want for hours on end. I need to plan ahead and tactically fit sessions into my week when it suits me but also my other half. I'm also conscious that riding indoors this winter will keep me safer than riding in the dark out on the road for several hours each week. As is common with new parents, the renewed perspective of having The Little One here now, this seems more important to me than it has in the past.
In the latter stages of my partner's pregnancy and the first few months of parenthood, aside from the odd snatched road ride, most of my riding came from jumping on my smart trainer for an hour and logging onto Zwift. However, I've barely scratched the surface when it comes to using Zwift itself. I'm at level 16 in the app and have used Zwift about 40 times this year. I've done some races with friends, explored some different worlds and completed structured sessions. But if I'm honest, I've jumped on the bike, logged on and not worried too much about what I was doing it was just a nice stimulus and a good way of staying engaged on the bike whilst I got my workout in. Most of my riding has been done on a smart wheel-on trainer in the past too which wasn't without its own foibles at times and wheel slip and lag can be frustrating.
How I plan to make this my best winter ever
So my aim is to make this my best winter ever on the bike. How will I determine what has made it the best come the spring? I think it's best to try and outline that now.
My cycling is I guess fairly performance-focused and the competitive juices still flow. I aim to get to the spring most years with a decent base of fitness having done enough to not get left behind in any races I do, tick off a few big riding goals (I completed the Fred Whitton this spring for instance) and get stuck in on fast local club runs and chain gangs. I also feel a responsibility to maintain a good level of fitness for bike testing at events and at home as part of the tech team here at Cyclingnews.
So that's goal number one: Emerge from the winter with a good level of fitness and dare I say it with some solid power numbers. I fear it would be very easy for me to not ride much at all this winter now the dark nights are here. Consistency is key for me (and most riders, I guess) when it comes to building fitness and form. If I can ride a minimum of three times every week alongside riding to power using my Zwift Hub smart trainer and Zwift, I'm hopeful I can arrive at spring with some solid fitness and will consider that a success.
Number two is staying stimulated and interested by diving into Zwift and taking advantage of all that it can offer, by doing races, and events and exploring different worlds. I pay for a subscription after all, so I'm going to get stuck into things like Zwift Academy which starts in November and will provide weeks of structured work and motivation. I'm also going to join my cycling club on Wednesdays where we ride together as a group in Zwift with the 'rubber band' on (a feature that keeps the group together, no matter the difference in abilities), whilst completing intervals. I haven't done this before but I won't be making many of our outdoor weeknight club rides this winter so this will keep me in touch with club mates. At the moment 60-90 minutes max is ideal for me to get into the garage and get my session ticked off quickly.
The third and final goal is to just try new things, both in and outdoors. Trying things I haven't done before can also help make this the best winter ever. I want to make an effort to keep things varied and interesting. I have several ideas here which I will explore in the coming installments. One is to try and use my track bike on the new Zwift Hub universal freehub. My local track is five minutes away and this should help me prepare for riding some track league rounds next year.
If I see anything interesting event-wise happening on Zwift I'm going to try it. I also want to try and get up early one day a week and Zwift before work. Or squeeze in a quick road ride if the weather is okay whilst the baby (hopefully) sleeps. I've never traditionally been an early morning trainer but there's a good window here for me at the moment and I want to try mixing things up and establishing this early routine over the winter.
So that's my plan. Try to be consistent and use the time I have well. Dive into Zwift and take advantage of the hub smart trainer and the world of Watopia. And mix things up and keep it fresh and stimulating.
Zwift has also offered me a chance to ride the real-world Paris-Roubaix sportive challenge next year which I hope to be able to do. Having a springtime goal pencilled in (especially a daunting one) is a sure-fire way of helping focus during the winter and I think I'll be looking up some Matt Hayman Zwift training sessions to help me hit the cobbles come the spring.
Riding friends who are also parents have offered some excellent advice this year which has helped. I'm fully aware I'm not the first cyclist to become a parent. I'd love to hear from other cycling parents on what worked for you when trying to fit cycling in around your riding as a new parent or in the first year.

Thank you for reading 5 articles in the past 30 days*
Join now for unlimited access
Enjoy your first month for just £1 / $1 / €1
*Read any 5 articles for free in each 30-day period, this automatically resets
After your trial you will be billed £4.99 $7.99 €5.99 per month, cancel anytime. Or sign up for one year for just £49 $79 €59

Join now for unlimited access
Try your first month for just £1 / $1 / €1