Swenson and Villafane crowned champions of Life Time Grand Prix
Stakes increased to $300,000 in 2024 for seven-race off-road series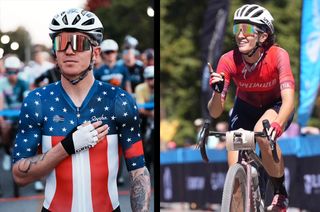 (Image credit: Life Time)
Sofia Gomez Villafañe (Specialized Off-road) and Keegan Swenson (Santa Cruz Bicycles) dominated the second edition of the Life Time Grand Prix presented by Mazda and were officially crowned champions of the seven-race off-road series after completing the finale at Big Sugar Gravel on Saturday.
The battle for points in the Life Time Grand Prix field culminated after 680 miles of racing and more than 59,000 feet of elevation gain as Villafañe and Swenson converted their scores into $25,000 each.
A $250,000 total prize purse was distributed evenly among the top 10 pro women and top 10 pro men the dust settled in Bentonville, Arkansas.
Organisers announced that the prize purse will increase to $300,000 in 2024 for an invitation-only field of 30 pro women and 30 pro men, down from 35 in each category this year. "The exact payout scheme is still being decided," according to a statement from Life Time.
While the makeup of the top 10 for pro women was reshuffled at the conclusion of Big Sugar Gravel, the men's top 10 saw the biggest changes. This year rider scores were tallied from their best results at five of the seven events, giving athletes the option to just race five events or compete in the full schedule and toss out lower scores.
Matthew Beers, seventh in the series going into Big Sugar, and Zach Calton, eighth in the series, dropped out of the top 10. For Calton, it was tough as he became a casualty in the Big Sugar tiebreaker. He finished 14 seconds behind Konny Looser for 20th place and the Swiss champion secured the tiebreaker bonus with his 19th place and the final top 10 position in the series.
Beers, who finished second to Swenson a week ago at Little Sugar MTB, did not finish Saturday's gravel event so did not qualify for a fifth race finish. Johnston moved into his spot for seventh overall, while Alex Howes moved three spots into eighth. Howard Grotts also moved from 12th to ninth.
The women's top 10 saw Jenna Rinehart and Paige Onweller leap two spots and earn $2,000 more each with sixth and seventh places, respectively.
Crystal Anthony moved to eighth and Hannah Otto to ninth, with Deanna Mayles holding on to 10th place.
Overall winners Villafañe and Swenson grabbed the series lead in the 70-rider invitation-only field by winning the opening round at Sea Otter Classic Fuego XL and continued to take top Grand Prix points across the next three events - Unbound Gravel 200, Crusher in the Tushar and Leadville Trail 100 MTB.
Swenson won the overall in all four of these events, setting a new course record at both Crusher and Leadville in the process. He finished second at Chequamegon MTB to seal his second overall victory in the series and then went on to win the inaugural US gravel national title, which he wore at Big Sugar. Alexey Vermeulen, who won Chequamegon and The Rad Dirt Fest, finished second overall. Cole Paton was third, Russell Finsterwald fourth, Lachlan Morton fifth and Peter Stetina sixth.
Villafañe won a trio of races in the first half of the series, with a women's course record at Crusher. She finished second at Unbound Gravel 200 behind Germany's Carolin Schiff, who was not part of the series so the Argentine rider took top series points. She then locked in her overall title with a third-place finish at Chequamegon. Alexis Skarda held on to second overall and Haley Smith, last year's winner, was third. Sarah Sturm was fourth and held off a late charge by Lauren De Crescenzo, who came within one point of a tie with her victory at The Rad Dirt Fest and second place at Big Sugar.
Next year's lineup for the Grand Prix will include the same events, four gravel and three mountain bike – the Fuego XL at Sea Otter, Unbound Gravel, Crusher in the Tushar, Leadville Trail 100 MTB, Chequamegon MTB Festival, The Rad Dirt Fest, and Big Sugar Gravel. All of these races will provide separate starts for the elite women and elite men.
The application process for the invitation-only field is now open through October 25. New for the third edition is that the top 15 finishers from this season will automatically qualify.
Life Time Grand Prix final standings 2023
Elite women top 10
Sofia Gomez Villafañe, 173 points
Alexis Skarda, 167 points
Haley Smith, 160 points
Sarah Sturm, 157 points
Lauren De Crescenzo, 156 points
Jenna Rinehart, 149 points
Paige Onweller, 148 points
Crystal Anthony, 142 points
Hannah Otto, 136 points
Deanna Mayles, 133 points
Elite men top 10
Keegan Swenson, 174 points
Alexey Vermeulen, 165 points
Cole Paton, 161 points
Russell Finsterwald, 154 points
Lachlan Morton, 153 points
Peter Stetina, 146 points
Brendan Johnston, 144 points
Alex Howes, 135 points
Howard Grotts, 132 points
Konny Looser, 128 points

Thank you for reading 5 articles in the past 30 days*
Join now for unlimited access
Enjoy your first month for just £1 / $1 / €1
*Read any 5 articles for free in each 30-day period, this automatically resets
After your trial you will be billed £4.99 $7.99 €5.99 per month, cancel anytime. Or sign up for one year for just £49 $79 €59

Join now for unlimited access
Try your first month for just £1 / $1 / €1