USA Cycling updates transgender athlete participation policy
Guidelines establish new categories in domestic racing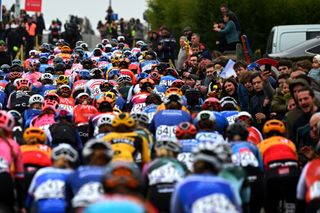 (Image credit: Getty Images)
USA Cycling has updated its transgender athlete participation policy, which now aims to establish new categories for transgender athletes to compete across domestic races within the US.
Beginning January 1, 2024, transgender athletes seeking to compete at USAC-sanctioned events will be categorized as either Group A or Group B athletes, depending on their discipline and race category, according to a press release from USA Cycling on Thursday.
As of July 17, 2023, the UCI banned transgender women from competing in women's categories on the UCI-sanctioned events on the international calendar in all disciplines if they have transitioned after puberty. Athletes seeking to compete at UCI-sanctioned events must adhere to the UCI eligibility regulations for transgender athletes.
In USAC-sanctioned events, Group A athletes are those seeking to compete domestically in the pro and categories 1 and 2 on the road, track and in cyclocross, as well as pro category in mountain bike and all categories across BMX.
These athletes must complete an "elite athlete fairness evaluation application" for review by an independent medical panel.
According to USA Cycling's announcement, this process includes the submission of medical documentation demonstrating that the athlete's total testosterone level in serum has been below 2.5 nmol/L for at least 24 months and must be completed 90 days prior to the first day of the race in which the athlete seeks to compete.
Group B athletes are those seeking to compete domestically in categories 3, 4, and 5 and novice in road, track and cyclocross racing, and categories 1, 2, and 3 in mountain bike.
These athletes must complete a "self identity verification request" for review by the USA Cycling technical director.
USA Cycling has stated that this process is for documenting the athlete's change in gender identity and must be completed 30 days prior to the first day of the race in which the athlete seeks to compete.
"The revision of our Transgender Participation Policy was a complex process guided by several factors. Foremost was the direction of our Board of Directors, who asked us to prioritize the balance between fairness and inclusion," USA Cycling CEO Brendan Quirk said.
"Our work encompassed a study of the UCI's most recent review of the latest scientific literature, an assessment of the U.S. legal environment and similar policies from other sports organizations, and outreach to our athletes, club and team managers, and event organizers. As U.S. law and scientific findings evolve, we will use this as an opportunity to do further review and revisions of this policy as needed."
Up until July, the UCI's guidelines stipulate that transgender women athletes must declare that their gender identity is female, demonstrate that their total testosterone level in serum has been below 2.5 nmol/L for a period of at least 24 months, and then remain at 2.5nmol/L throughout the period of desired eligibility to compete in the female category.
It revised its guidelines following a roundtable discussion among key stakeholders in June and then its Management Committee meeting held in July. The new guidelines followed other sports and banned transgender women athletes from competing in the women's category in UCI-sanctioned international competitions.

The UCI also cited a document written by its Medical Director, Xavier Bigard, as part of its reason for revising its guidelines. This can be found here: The current knowledge on the effects of gender-affirming treatment on markers of performance in transgender female cyclists", updated May 2023.

Thank you for reading 5 articles in the past 30 days*
Join now for unlimited access
Enjoy your first month for just £1 / $1 / €1
*Read any 5 articles for free in each 30-day period, this automatically resets
After your trial you will be billed £4.99 $7.99 €5.99 per month, cancel anytime. Or sign up for one year for just £49 $79 €59

Join now for unlimited access
Try your first month for just £1 / $1 / €1